View the autarco site optimised for:
Solar solution of 161 kWp at ebm-papst, market leader in ventilation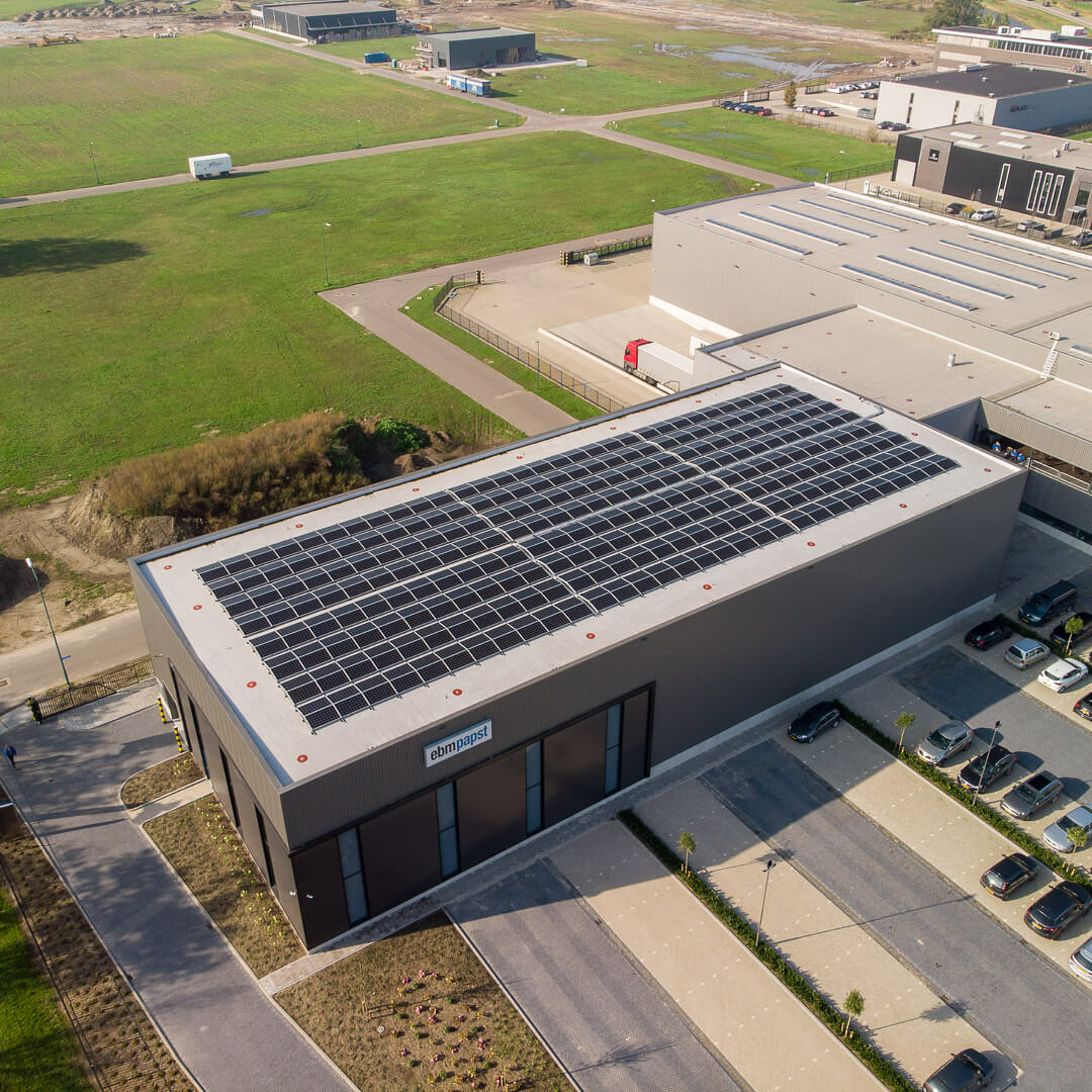 An Autarco total solution with innovative Silverpoint solar panels
In September of 2019 Jeroen Vlemmings Elektro & Montage installed an Autarco total solution at ebm-papst Benelux. A system of innovative Silverpoint solar panels, including an insured kWh guarantee.
ebm-papst is a global organisation specialised in ventilation and drive technology. These sustainable fans are also used in Autarco inverters. As a part of their Green Intelligence company philosophy they aim to make every new product more sustainable than the previous. Matching with this philosophy is a solar energy system by Autarco on the roof of their new facility in Beek en Donk. We asked the director of ebm papst, Ad van Nistelrooij, a few quick questions.
Why is a solar total solution important to you?
We've purchased all products from one brand and that's important to us as we are not solar specialists. We liked to be fully taken care of so that we could continue to focus on our own business. A total solution from one brand is the best choice so that we have one point of contact.
What's the reason for choosing solar to become more sustainable?
Green Intelligence is our company philosophy, meaning that in everything we do we're aiming to contribute to a more sustainable world. We should commit to a sustainable future to maintain a right to exist. Therefore we've decided to install a solar solution on the roof of our new building making it nearly energy neutral.
What is in your opinion the added value of a business case with kWh guarantee?
Beforehand we can't say with certainty how long the solar energy system will last and how it will perform. That's why it's important to us to have a rock-solid business case, insured by the kWh guarantee foundation. This way we know for sure that the upcoming 10-15 years the business case will be met like how it was calculated beforehand. If the system underperforms in the future we will get a financial compensation.
The project
This solar energy system of 161 kWp consists of 496 Silverpoint panels which produce energy that's inverted by three Autarco UX inverters of 50 kW. These Silverpoint solar panels are made with the latest technologies. Rather than thin strips of aluminium running across the front of the solar panel the electrons are passed through a copper conductive layer behind the solar cells. This makes for industry-leading efficiency greater than 20% and lower degradation over time.
"We chose the kWh guarantee to make sure we're insured of meeting our business case in the upcoming 10-15 years."
Ad van Nistelrooij - Director ebm-papst Benelux
The combination of Autarco inverters and solar panels enables ebm-papst to benefit from the unique kWh guarantee. Installer Jeroen Vlemmings used our innovative Helios software to exactly dimension the system. The software automatically calculates the expected yield, which is 139 MWh in the first year. This is insured by the kWh guarantee foundation and for every missed kWh ebm-papst will receive a financial compensation. The business case that was calculated beforehand will for sure be met. A very safe and reliable investment.

Project specs
161 kWp system size
496 Silverpoint of 325 Wp
3 UX series inverters
Matrix symmetrical mounting system
Jeroen Vlemmings Elektro & Montage